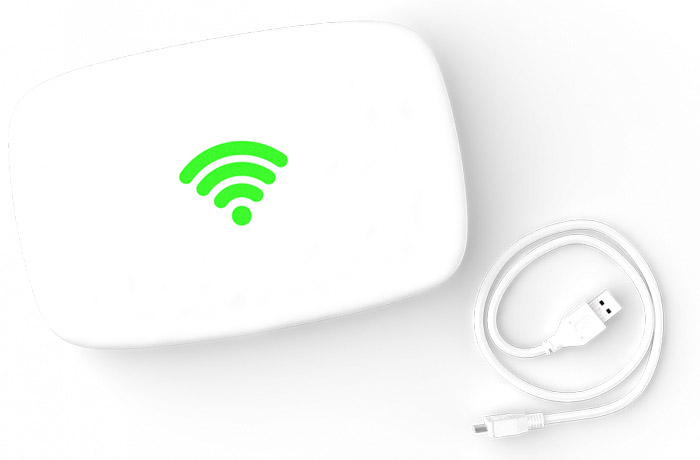 How mobile WiFi routers work
A mobile WiFi router receives Internet from mobile broadband antennas by means of an inserted SIM card (just as a smartphone would). The router then relays the mobile data in form of a WiFi hotspot in a certain radius. The technology is in a palm-sized, very light housing. It's limited size allows it to be stowed under shelves and counters, while the low weight makes it possible to place the router in suspended ceilings. Our customers have had particularly good experiences with the latter location.
As already pointed out, a SIM card is part of the mobile WiFi router. If you order your device from a mobile carrier, you can usually book a suitable Internet tariff with it. However, we would like to mention that the tariffs offered there usually exceed the requirements of our traplinked devices. In the following we have put together a selection of "tariff-free" mobile WiFi routers that we consider suitable. Please note that nowadays the USB to main power plugs required for permanent operation of the router are rarely part of the scope of delivery. Read the information carefully and remember to bring a connector with you when you bring the mobile router to a customer. Important: In the mobile WiFi router's settings, disable battery savings mode to ensure proper and stable communication between the router and traplinked devices.
choosing the right data tariff*
Traplinked systems do not require a large volume of data. A few megabytes have to be communicated to the server every month – every now and then a few more when devices are updated. The exact scope of transfer depends on the set heartbeat time of the systems. But with just 500 MB of data volume per month, you should be on the safe side with up to 20 connected devices. It is important to choose a high transmission speed, though (we recommend LTE). A speed-related short data transfer saves the saves battery power. Via the links below you will find comparison portals in which suitable tariffs are collected for operations in Germany. Please read the individual contract terms carefully before making a decision.
tariffs on billiger-telefonieren.de
*traplinked haftet nicht für die auf dieser Seite dargestellten Produkte. Mit keinem der hier erwähnten Darsteller oder Anbieter führt traplinked geschäftliche Beziehungen.