Shaping the digital transformation of pest control
Easy setup
Mobile network connected
​International e-SIM and subscription function in 50+ countries
​3 years battery life
BUILT FOR PROFESSIONALS
Indoor and outdoor use
​Optimized for rough conditions (Heavy rain, snow or sun)
Designed for industry-standard rodent boxes
SUSTAINABLE
Non-toxic
​Reusable
​Saves unnecessary trips
SMART AND EFFECTIVE
Patented rodent detection function
​Conveniently integrated into the traplinked App
​Receive instant notification when a rodent is trapped
Increase the efficacy of business operations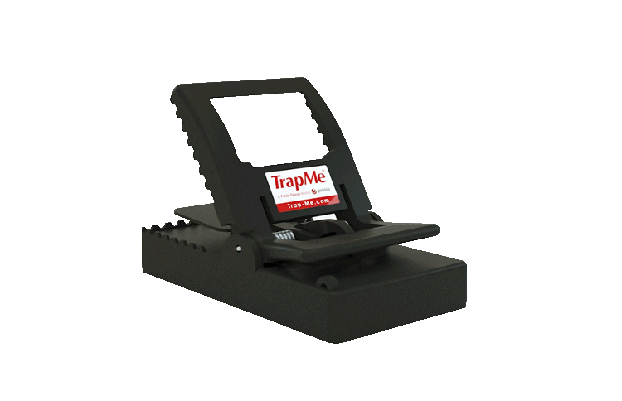 STRONG RAT TRAP -
STRONGER MOUSE TRAP
TrapMe trap takes care of both rats and mice. It is a stand-alone solution which connects to the software conveniently via the GSM network. TrapMe uses both 2G communication and frontier network communication of LTE-CatM1. The connectivity is sustained in more than 50 countries.
The trap is designed with a strong clam to ensure a clean and humane kill of rats. You can turn the strong rat trap into the strongest mouse trap in a second with the mouse trap trigger add-on. Discover this unique design and its benefits in the video!
traplinked - trapme
Strategic partnership to innovate pest control
Traplinked and TrapMe both operate in the pest control as hardware and software companies which provide innovative, digital solutions to pest controllers to work more efficiently. The two businesses share multiple things in common: the modern mindset - that the pest control industry must be digitized, efficient and eco-friendly and dynamic teams which strive for innovation and progress.
Traplinked solutions with trap tunnels offer safe usage inside buildings. Meanwhile TrapMe traps characterized by their stand-alone connectivity are compact and easy to use outdoor. The strategic partnership is believed to benefit pest controllers across Europe by covering a wide range of use cases, either indoor or outdoor, with flexible network connections.
In this video, Tim Kirchhof, CEO of traplinked and Stig Lyngsie, CEO of TrapMe talk about the vision of the partnership and how it benefits pest controllers.
interested in the trapme outdoor solutions?
contact us now